Teaching and methods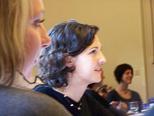 Teaching and methods
In FRENCH FACTORY Bordeaux we concentrate on the aims and expectations of our students, whether individuals or professionals.
All our languages courses take place in small groups from 4 to 8 persons.
We adapt our courses on the language level of every student. To succeed each student does a test and an interview to find out the level of language skills. Therewith we can adapt the courses on the individual needs of each student.
Thanks to a personal support teachers can attend their entire attention to the students and they can express themselves easily in a pleasant atmosphere.
We feel sure that it is the best way to learn a foreign language when using it practically. Therefore we are eager that the students learn the language with help of discussions, video presentations, news and magazines or even in coffee breaks.
The accommodation in a guest family (Francophone or Anglophone) is the best possibility for students to immerse completely in the French culture.
We get everything possible going so that the students at FRENCH FACTORY Bordeaux can learn efficiently.