Budget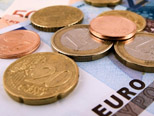 The life of a student hasn't got a price!
Nevertheless some costs are necessary to have nice memories of Bordeaux. We suggest an estimated budget, which depends on your lifestyle and the time you spend in Bordeaux and at FFBordeaux.
Prices are only given to inform you and are adapted to the costs of living in Bordeaux.
Monthly costs:
Costs for accommodation:
– Stay with a guest family including breakfast (25 or 32 €/ day, contact us for detailed information)
– Apartment-Hotels
– Youth hostels (Contact us)
– One-room-flat (1 room with kitchen unit): from 400 € (deposit necessary)
– Flat share (differently)
Transport:
Bus/ tram – 10,80 € (drive unlimited for one week)
Single ticket – 1,40 €
Bike/ VClub – FREE or small subscription and always ecological
Leisure time (small selection)
– Cinema: 4-10 €
– Big Mac Menu Best Of: about 7,20 €
– T-Shirt: about 17 €
– Mascara: 15 – 25 €
– Book (paperback) – about 7 €
– DVD – about 12 €
– Cake, salad: 8 € – Sushi – 12 €