Enseignement et pédagogieNauczanie i pedagogikaTeaching and methodsEnseñanza y pedagogíaUnterricht und Lehrmethode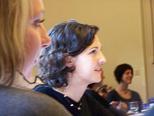 A FRENCH FACTORY Bordeaux nous mettons l'accent sur les attentes et les objectifs de nos étudiants qu'ils soient particuliers ou professionnels.
Tous nos cours de langues se déroulent par petits groupes de 4 à 8 personnes.
En effet, nous développons des cours sur mesure en fonction du niveau de chaque candidat. Ce que nous parvenons à déterminer suite à un test de niveau ou un entretien passé par l'étudiant. Et c'est uniquement à partir de ce moment là que nous ajustons les cours de sorte qu'ils soient le mieux adaptés aux besoins de chaque participant.
Grâce à un suivi personnalisé, les professeurs peuvent fixer toute leur attention sur chacun des étudiants et ceux-ci ont de la sorte, plus d'aisances à s'exprimer dans une ambiance à la fois studieuse et chaleureuse.
Car nous sommes convaincus que l'apprentissage d'une langue passe par la pratique quotidienne ; c'est pourquoi nous amenons chaque étudiant à s'imprégner de la seconde langue à travers des discussions libres, projection de vidéos, lecture de presse et magazines, pauses café.
L'hébergement en famille d'accueil (francophone ou anglophone) s'inscrit d'ailleurs dans cette optique d'immersion totale de l'étudiant dans la culture française.
Nous mettons tout en œuvre afin que chaque étudiant à FRENCH FACTORY Bordeaux puisse apprendre la langue étrangère dans les meilleures conditions possibles.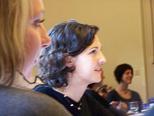 Teaching and methods
In FRENCH FACTORY Bordeaux we concentrate on the aims and expectations of our students, whether individuals or professionals.
All our languages courses take place in small groups from 4 to 8 persons.
We adapt our courses on the language level of every student. To succeed each student does a test and an interview to find out the level of language skills. Therewith we can adapt the courses on the individual needs of each student.
Thanks to a personal support teachers can attend their entire attention to the students and they can express themselves easily in a pleasant atmosphere.
We feel sure that it is the best way to learn a foreign language when using it practically. Therefore we are eager that the students learn the language with help of discussions, video presentations, news and magazines or even in coffee breaks.
The accommodation in a guest family (Francophone or Anglophone) is the best possibility for students to immerse completely in the French culture.
We get everything possible going so that the students at FRENCH FACTORY Bordeaux can learn efficiently.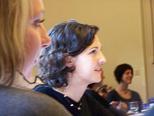 Szkola FRENCH FACTORY Bordeaux przyklada ogromna wage do oczekiwan i celow jezykowych (zawodowych lub prywatnych) swoich Studentow.
Wszystkie zajecia odbywaja sie w niewielkich 4-8-osobowych grupach lub w formie indiwidualnych spotkan Face-to-Face. Tym samym formatorzy moga dopasowac tematy oraz proponowane cwiczenia do zainteresowan oraz poziomu jezykowego uczestnikow kursu.
Okreslenie poziomu zaawansowania jezykowego nastepuje podczas wstepnego testu pisemnego oraz rozmowy z jednym z naszych nauczycieli. Na podstawie rezultatow, przewidziany uprzednio program pedagogiczny jest wzbogacany o tresci specyficzne dla kazdego ze Studentow tworzacych grupe.
Dzieki indiwidulanemu coachingowi, formatorzy regularnie monitoruja postepy Studentow, ktorzy dzieki tej szczegolnej uwadze i atmosferze moga z wieksza swoboda uczestniczyc w proponowanych zajeciach.
Jestesmy bowiem przekonani, ze nauka jezyka to przede wszystkim codzienna praktyka. Dlatego takze namawiamy naszych Studentow do « przezywania » jezyka obcego poprzez aktywne uczestniczenie w debatach, ogladaniu filmow, lekturze prasy czy rozmow podczas przerw na kawe.
Zakwaterowanie u rodzin goszczacych (francusko lub angielskojezycznych) naturalnie wpisuje sie  w optyke totalnego zanurzenia w kulture francuska.
Staramy sie, by kazdy Student Szkoly FRENCH FACTORY Bordeaux mogl poglebiac swoja wiedze jezykowa w jak najlepszych warunkach.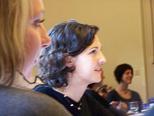 En FRENCH FACTORY BORDEAUX le damos vital importancia a sus deseos y objetivos pedagógicos que sean estudiantes particulares o profesionales.
Todos nuestros cursos se desarrollan en pequeños grupos de 4 a 8 personas.
Desarrollamos nuestros cursos a la medida en función del nivel de cada candidato lo que logramos determinar gracias a una evaluación de nivel o a una entrevista con uno de nuestros formadores. Es a partir de ese momento que ajustamos los cursos de manera que sean adaptados adecuadamente a las necesidades de nuestros estudiantes.
Gracias a un seguimiento y acompañamiento personalizado, los formadores pueden  centrar su atención en cada uno de los estudiantes ayudándoles a expresarse sin temores en un ámbito a la vez académico y ameno.
En FRENCH FACTORY BORDEAUX estamos convencidos que el aprendizaje de un idioma se realiza con la práctica cotidiana, es por eso que conducimos a cada estudiante a impregnarse del idioma a través de discusiones libres de proyecciones des vídeos, de lecturas de prensa y revistas, todo acompañado de pausas amenas y calurosas.
El alojamiento en una familia huésped (francófona o anglófona) se inscribe justamente en nuestra óptica de inmersión total del estudiante en la cultura francesa (o inglesa). Hacemos todo lo posible porque cada estudiante de FRENCH FACTORY BORDEAUX pueda aprender la lengua extranjera en las mejores condiciones posibles.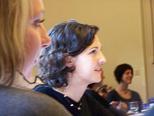 In der FRENCH FACTORY Bordeaux konzentrieren wir uns auf die Ziele und Erwartungen unserer Schüler, ob Privatpersonen oder Fachleute.
All unsere Sprachkurse finden in kleinen Gruppen von 4 bis 8 Personen statt.
Wir passen unsere Kurse an das Sprachlevel eines jeden Schülers an. Damit uns das gelingt, macht jeder Schüler zu Beginn einen Test zur Ermittlung seines Sprachniveaus sowie ein Einführungsgespräch. So können wir die Kurse ideal an die Bedürfnisse der einzelnen Teilnehmer anpassen.
Dank einer persönlichen Betreuung können die Lehrer ihre ganze Aufmerksamkeit den Schülern widmen und diese können sich mit Leichtigkeit in einer angenehmen und herzlichen Atmosphäre ausdrücken. Wir sind davon überzeugt, dass sich eine Sprache am besten mit der praktischen Anwendung lernen lässt.
Deswegen sind wir bestrebt, dass sich jeder der Schüler die Fremdsprache mithilfe von Diskussionen, Videopräsentationen, Nachrichten und Magazinen oder auch in Kaffeepausen einprägt.
Die Unterkunft in einer Gastfamilie (frankophon oder anglophon) ist die beste Möglichkeit für den Schüler, um vollkommen in die französische Kultur einzutauchen.
Wir setzen alles in Bewegung, damit jeder Schüler der FRENCH FACTORY Bordeaux die Fremdsprache zu den bestmöglichen Bedingungen lernen kann.