Autres languesLanguage CoursesNasza ofertaQué proponemos?Was bieten wir an?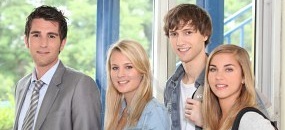 Nous proposons des formations en langues étrangères par petits groupes (4-8 personnes) ou en cours particuliers avec les formateurs natifs diplômés, sur Bordeaux et en Gironde.
FRENCH FACTORY Bordeaux Ecole de Langues, Centre de Formation Professionnelle Continue garantie un suivi pédagogique personnalisé et des cours préparés sur mesure. Nos étudiants participent activement aux activités proposées par les formateurs.
Nous assurons des cours dans les locaux en centre de Bordeaux, dans l'entreprise ou à domicile.
L'équipe enseignante de notre École de langues est professionnelle, dynamique et créative. Les professeurs ont tous une expérience dans l'enseignement et pratiquent les méthodes pédagogiques les plus récentes. Ils animent des activités linguistiques et culturelles.
Si la langue que vous cherchez n'est pas disponible dans notre catalogue, nous pouvons créer une formation pour répondre à vos besoins !
Contactez-nous pour en savoir plus.
FRENCH FACTORY Bordeaux propose un paquet de différents services liés à la formation avec des objectifs spécifiques. Vous trouverez ici l'ensemble des services identifiés par catégories.
Droit individuel à la formation : formation linguistique sur mesure avec les formateurs diplômés, dans votre entreprise ou nos locaux.

Stages intensifs en immersion (7h/jour + déjeuner avec le formateur), stages de demi-journée, cours du soir.
Petits groupes ou séances individuelles.
Stages thématiques : Vous aimez la cuisine française ? L'histoire du vin vous intéresse? Vous êtes professeur de français et vous souhaiteriez effectuer un stage linguistique et pédagogique à Bordeaux ?

Contactez-nous pour obtenir les détails sur les stages de Master et COMENIUS.
Stages thématiques : Français & Vin, Français & Gastronomie, Français & Thalasso
Soutien scolaire : Parler anglais, italien ou allemand – ça s'apprend dès le plus jeune âge. Aidez vos enfants à réussir dans l'apprentissage des langues en leur proposant un cours personnalisé

en petit groupe (max. 6 personnes) ou
en séances individuelles avec un formateur natif jeune et dynamique.
Service d'hébergement : Partagez les moments conviviaux avec la famille d'accueil ou appréciez l'indépendance dans l'un des nos appart'hôtels.

En été, vous pouvez aussi séjourner dans les résidences universitaires.
We offer foreign language courses in small groups (4-8 persons) or private tuition with qualified native speakers, in Bordeaux and Gironde
.
FRENCH FACTORY Bordeaux, language school, Language training center guarantees a professional personal support and to your language level adapted courses. Our students have the possibility to participate in activities proposed by our teachers.
We offer courses in our location in the centre of Bordeaux, in your company or in your house.
The team of our language school is professional, dynamic and creative. The teachers all have experience in teaching and apply to the newest teaching methods. They do linguistic and cultural activities.
If the language you are searching for not appears in the catalogue we can create a course that corresponds to your needs !
Please contact-us for more information.
What are we offering?FRENCH FACTORY Bordeaux offers a package with various services in connection with the courses and individual aims. Here you can find all services in categories. Please click on the picture of your choice.
Individual claim on further education: Language training as required with qualified teachers in your company or in our location.

Intensive courses (7h per day + lunch with the teachers), Part time courses, evening course, etc.

Courses in small groups or single lessons
Professional training: You are a teacher for French and would like to do a language course or professional training in Bordeaux?

Contact us to obtain the program and details about the course.
Language for Juniors: To speak English, Italian or German already when you are young! Help your children to be successful when learning a language.

With the help of our courses (in small groups or single courses) which are precisely adapted to the needs of your children and our dynamic native speakers as teachers it will be easy for your children to learn the language.
Accommodation: Share sociable moments with a guest family or experience independence in one of our apartment-hotels.

In summer you can also stay in accommodations of the universities.
Proponujemy wysokiej jakosci kursy i szkolenia jezykowe w niewielkich grupach (4-8-osob) lub podczas zajec One-to-One z wykwalifikowana kadra native speakerow w Bordeaux i w Gironde.
FRENCH FACTORY Bordeaux Szkola Jezykowa, Osrodek Ksztalcenia Jezykowego dla firm gwarantuje induwidualne podejscie pedagogiczne oraz zajecia przygotowane z mysla o specyfice kazdej nowopowstalej grupy. Dzieki kameralnym grupom, nasi studenci maja wiele okazji do aktywnego uczestniczenia w cwiczeniach jezykowych proponowanych przez nauczycieli.
Prowadzimy zajecia zarowno w naszych lokalach w centrum Bordeaux, jak i w Waszej firmie lub domu.
Nasza kadra to dynamiczni i kreatywni mlodzi nauczyciele, ktorzy dysponuja doswiadczeniem zawodowym i znajomoscia roznych metod nauczania jezykow obcych. Przygotowuja i animuja zajecia jezykowe i kulturalne.
Jesli jezyk, ktorego szukacie nie widnieje w naszym katalogu, skontaktujcie sie z nami.
Stworzymy dla Was zajecia odpowiadajace Waszym potrzebom !
Skontaktuj sie z nami, by uzyskac wiecej informacji.
FRENCH FACTORY Bordeaux oferuje szeroki wachlarz  zajec jezykowych dla osob w kazdym wieku i o roznym profilu.
Prawo do ksztalcenia ustawicznego (DIF) : kursy jezykowe z  dyplomowanymi native speakerami, w Twojej firmie lub w naszych lokalach (oferta dla firm)

Intensywne staze « total immersion » (7h dziennie + obiad z nauczycielem), staze pol-intensywne, kursy jezykowe wieczorowe etc.
Zajecia w niewielkich grupach lub lekcje indywidualne.
Staze tematyczne : Uwielbaisz francuska kuchnie, pasjonuje Cie historia wina a moze jestes (przyszlym) nauczycielem jezyka francuskiego i chcialbys odbyc staz jezykowo-pédagogiczny w Bordeaux ?

Skontaktuj sie z nami by otrzymac program i szczegoly szkolenia (COMENIUS).
Staze tematyczne w niewielkich grupach : Francuski & Wino, Francuski & Gastronomia, Francuski & Thalasso
Kursy dla dzieci i mlodziezy : Mowic po angielsku, wlosku czy niemiecku uczmy sie juz od najmlodszych lat.

Zaproponuj swojemu dziecku zajecia jezykowe w niewielkiej grupie (max. 6 osob) lub
Lekcje indywidualne z mlodym i dynamicznym native speakerem.
Zakwaterowanie : Pobyt u jednej z naszych starannie wyselekcjonowanych rodzin goszczacych lub studio w appart'hotelu – do Was nalezy wybor.

Latem, propnujemy noclegi w akademickich campusach.
Nos autres offres
Wir bieten qualitative Fremdsprachenkurse in kleinen Gruppen (4-8 Personen) oder Einzelunterricht an, mit diplomierten Muttersprachlern aus Bordeaux und der Gironde
.
FRENCH FACTORY Bordeaux, Sprachschule, Einrichtung für professionelle Fortbildung garantiert eine professionelle persönliche Betreuung und an das Sprachniveau angepasste Kurse. Unsere Schüler haben die Möglichkeit an den von den Lehrern vorgeschlagenen Aktivitäten teilzunehmen.
Wir bieten die Kurse in unserem Standort im Zentrum von Bordeaux, in Ihrem Unternehmen oder bei Ihnen zu Hause an.
Das Team unserer Sprachschule ist professionell, dynamisch und kreativ. Die Lehrer haben alle Erfahrung im Unterrichten und wenden die neuesten Lehrmethoden an. Sie führen sprachliche und kulturelle Aktivitäten durch. Wenn die Sprache, die Sie suchen, in unserem Katalog nicht verfügbar ist, können wir einen Kurs, der Ihren Bedürfnissen entspricht, erstellen. Kontaktieren Sie uns, um mehr zu erfahren.
FRENCH FACTORY Bordeaux bietet ein Paket mit verschiedenen Dienstleistungen im Zusammenhang der Kurse mit den einzelnen Zielen. Sie finden hier sämtliche Dienstleistungen in Kategorien. Bitte klicken Sie auf ein Bild Ihrer Wahl.
Individueller Fortbildungsanspruch: Sprachausbildung nach Bedarf mit diplomierten Ausbildern, in Ihrem Unternehmen oder in unserem Standort.

Intensivkurse (7h pro Tag + Mittagessen mit dem Lehrer), Halbtagskurse, Abendkurse, usw.
Kurse in kleinen Gruppen oder Einzelstunden
Pädagogische Kurse: Sie sind Französischlehrer und Sie möchten einen Sprachkurs oder einen pädagogischen Kurs in Bordeaux durchführen?

Kontaktieren Sie uns, um das Programm und die Details zum Kurs zu erhalten (Praktikum, COMENIUS).
| | |
| --- | --- |
| | Sprache für Kinder: Englisch, Italienisch oder Deutsch sprechen – und das bereits im jungen Alter. Helfen Sie Ihren Kindern Erfolg beim Lernen einer Sprache zu haben. Mithilfe unserer genau an die Bedürfnisse Ihrer Kinder angepassten Kurse in kleinen Gruppen (max. 6 Personen) mit jungen dynamischen Muttersprachlern als Lehrern, wird Ihren Kindern das Lernen der Sprache leicht fallen. |
| | |
| --- | --- |
| | Unterkunftsmöglichkeiten: Teilen Sie die geselligen Momente mit einer Gastfamilie oder erfahren Sie die Unabhängigkeit in einem unserer Appartement-Hotels. Im Sommer können Sie auch in einer Unterkunft der Universitäten unterkommen. |